Thursday 11.15.2022
Today something miraculous happened. I woke up early! Naturally! Instead of rising at the usual time of… past noon, I woke up at… 7 AM! Isn't that crazy! (…It's because I was under the influence the night prior and passed out..) Naturally, I was very excited. My life drawing class for the day had been canceled too, so I had most of the day to myself. I laid in bed as I planned out my mental itinerary…. I decided on taking a trip to the Japanese bakery (since I always arrive there late and find that my favorite bread has been sold out…) and then hang out in the library. My phone's weather app had predicted that it would be very cold and frosty outside, so I tried to dress accordingly…


I layered a long skirt and two cardigans over a collared dress, and slipped on leg warmers. I packed a coloring book, a manga omnibus, my nintendo switch, my sketchbook and my pencil case into my messenger bag. Packing is very relaxing… I like looking over all the items I'll use for the day, and making everything fit neatly together. After packing my bag and slipping into my Mary Janes, I stepped outside to find that the weather was actually quite nice. Maybe it's because there's sunlight out…? Ive been mostly living in darkness due to nocturnal sleep schedule. ~__~
I took a bus to the bakery, where I was happy to find my favorite bread, fresh and fully stocked… I sat outside and ate my bread with a bottle of milk tea. After finishing my breakfast, I walked to the library, where I spent time playing animal crossing, reading, and coloring in my coloring book. It was very relaxing! Especially since I just finished up my finals… I really needed a breather!
I then wandered around town and window shopped before hopping on a bus home. At my apartment, my room mates and I cooked steak, mashed potatoes, and rested vegetables for dinner. It was very delicious meal… We tried to start making a gingerbread house but had to head off to class before we could finish it. During my final class of the semester, our teacher helped us celebrate by bringing lots of yummy cake for us to share. I had a slice of strawberry cheesecake…
After arriving home from class, I fixed myself a cup of hot chocolate and had fun editing my photos of the day with cute stickers. I'm going to try to sleep early again. I really hope I can make it a habit!

Thursday 11.24.2022
It's thanksgiving! A friend of mine was kind enough to invite me as well as some of our other friends over to his house for thanksgiving. I woke up late as usual, and tried to speedrun a shower before my friend came to pick me up… As a result, I ended up attending the thanksgiving dinner with very fluffy blow dried hair…. His family's cooking was delicious… I've never had a traditional thanksgiving meal before, so it made for a good first experience. I got to take leftovers home, too! I spent the rest of the night playing Jackbox with my friends.

Monday 11.07.2022
Today was a chilly, rainy day. I dressed myself in my favorite hoodie and a long skirt to keep my legs warm. I only started wearing long skirts recently, and they're so cozy…. I like twirling around while wearing them. My room mate and I decided to shop for a few groceries, so we climbed onto her electric bike and set off. The bike ride was fun…. it was brisk out, but not too cold, and the rainfall was only a mild drizzle. After we finished shopping and returned home, I fixed myself a plate of toasted brioche and a cup of hot milk tea. It was the perfect snack to warm up with after a chilly bike ride…

Friday 11.04.2022
I had a really nice day today. It's been teeth-chatteringly cold the last few days, but today the weather was fair and tepid… I received a skirt in the mail— it's a beautiful cream colored tiered skirt, with detailed lace trim, and a print that's slightly visible through the tulle overlay, depicting bunnies in little blue dresses and bows… it's just so adorable… T__T The skirt is soft as a cloud. It's so comfortable… I intended to wear it under my other skirts and dresses to keep me warm in the winter but the skirt is adorable on its own. I like that I can lift my skirt a little and see little bunnies in dresses staring back at me. It makes me smile..


I cleaned my apartment a bit, and decided to spend the day enjoying the nice weather… Today I wore my favorite, comfiest knit sweater, which I paired with my brand new lacy skirt. I wore the frilly leg warmers my friend knitted for me, as well as my favorite pair of brown Mary Janes… I put some empty milk bottles in my bag so I could exchange them at the grocery store, and packed along my sketchbook and paints so I could sketch outside.
There's a Japanese restaurant near my apartment. I bussed part of the way there and walked the rest of the way. I've been dreaming about eating their tonkatsu all week, but when I looked through the menu I became distracted by their karaage, which is what I ended up ordering, along with a bowl of rice and a canned coffee. It was a yummy meal…. I ended up having leftovers! After my meal, I walked to the store to deposit my empty milk bottles. Then I strolled around the shopping center for a bit, stopping by stores to do a bit of window shopping. On my walk home, I decided to sit down and do some plein air… I painted a sketch of a street corner as the sun began to set.
When I returned to my apartment, I found that my classmate/neighbor was holding a house party at his apartment! My roommates and I gathered there and met with our other classmates…. We had delicious a hot pot dinner. my room mate brought her guitar along, so the two of us performed some songs together! After the house party, I played some Yume 2kki online with my friend Gretchen. We've finally gotten around to exploring the Abandoned Apartments. It's our first time experiencing Wataru's maps, as they were recently re-added to the game. Our dream exploration adventures were a lot of fun… I really adored the Planetarium.

Monday 10.31.2022
Today was Halloween! In all honesty, I didn't think I'd be able to celebrate Halloween today. I have classes from morning til night, and not to mention homework due the next day… But my friends invited me over to their apartment to order food and watch Carrie! They agreed to let me sleep over, too! I packed my pillows and blankets and a projector… I met up with my friends after our night classes concluded, and we walked to their apartment. We set up the projector, heated up some snacks, and made ourselves comfortable on the floor with some pillows and blankets. And also we had edibles LOL I'm usually only high at home or at parties, so being high with a smaller group of friends was new to me. It was a lot of fun! We had the craziest conversations. We ended up making a 30 minute recording of just us talking…. I've never watched Carrie prior to today, but it was really good and I thoroughly enjoyed it!! I especially adored the color grading in the film. The blues and whites during the prom looked absolutely ethereal, and the bright red blood contrasted against the blue during the scene where Carrie is doused in pigs blood was what really sold it for me!! I think the edibles started hitting for everyone towards the second half of Carrie, because after we finished watching Carrie we started Coraline, then we started Bratz Kidz Fairy Tales, then the gay Pinocchio movie, and finally megamind. We tried to order McDonald's two separate times but there were complications both times.. (I like to think the courier ate our 60 chicken mcnugget order) We ended up ordering Carl's Jr. I'll be honest, it kinda sucks. Anyways, this Halloween was a ton of fun!! Being gathered by the projector and just chatting and eating together was a very fun experience… I slept very comfortably too! Sleeping on the floor can loosen up your muscles or something!

Friday 10.21.22 - Sunday 10.23.22

My best friend came to visit me!! I had been looking forward to his visit all month. Since we only had a little under 3 days together, I knew I had to pull out all the stops and show him as many of my favorite things as I could. He doesnt travel much, so I wanted to make his trip a memorable one. His visit came at a good time too… School has really kicked me in the ass and its done no wonders for my mental health. But my best friend has a certain healing quality to him… just spending the weekend with him was enough to restore me to full health! I feel energized and ready to work again. I made some very happy memories that I'll cherish forever. Here is a summary of our fun weekend together!
On Friday, my best friend arrived at the airport. I went about my day as he took public transit to arrive at my town. When he got to my town's train station, I told him to use the bus to come to my apartment. Apparently he decided to hop on the first bus he saw, so it took him a while to arrive… I was pacing around the outside of my neighborhood, walking to nearby bus stops to greet him, but apparently he had already made it to the gates of my apartment. I saw him when I turned the corner to my apartment. I was so happy!!!!! There was a lot of hugging, and I led him inside so I could show him around and let him rest for a bit. After he had a glass of water and opened some gifts I had stocked up for him, we set off to a nearby restaurant to eat lunch/dinner(?). I was excited to show him around my town a bit, since I planned to show him the big city for the remaining two days of his visit. I told him what my favorite dishes and drinks were to order, and we ended up sharing a bowl of tonkatsu ramen and an appetizer. After that, we got boba and wandered around the local mall. As it became night, I helped him get to where he was staying and headed back home.
On Saturday, I took him to a Japanese neighborhood located in the city! We're both from a far away small town, so I was really excited to show him the city, especially that neighborhood, because it has video game stores, book stores, and art supply stores that I knew he'd love to visit. And also, it's just really pretty. He met up with me at my apartment, and we went to the train station and caught a train into the city. When we arrived at our destination, I took him to a toy store that exclusively sold blind boxes. After picking out some blind boxes that caught our eye, we got a table at one of my favorite restaurants and opened the boxes as we waited for our food. My best friend got some seriously impressive pulls….. I was really excited for him to try the food, as I had been hyping it up on my visits home. He really enjoyed the food I ordered, and since we were seated outside, lots of passerbys would peer over at our food and comment about how delicious it looked.. LOL. We got shaved ice for dessert. I've been excitedly talking about that restaurants's shaved ice to him for months. It was delicious as always, and my friend was very impressed with it! He later told me it was one of the best things he ate that trip. We spent the rest of the day shopping and exploring the neighborhood. It was fun showing him around. I even did some grocery shopping.
At the end of the night, we were tired and were looking for a place to eat dinner… tragically, my favorite sushi restaurant had closed down. I opted to take him to another good sushi restaurant instead, but when we arrived there, we found the line to be too long… We wandered around the neighborhood for a bit, trying to find a restaurant that wasnt closed or fully seated…
We came across a cute cafe with a very warm and cozy atmosphere. We walked past it at first, thinking it was closing, but we still felt drawn to it, so we later returned. Luckily for us, the waitress told us it was still open! We took a seat inside, and ordered an omurice for the two of us to share.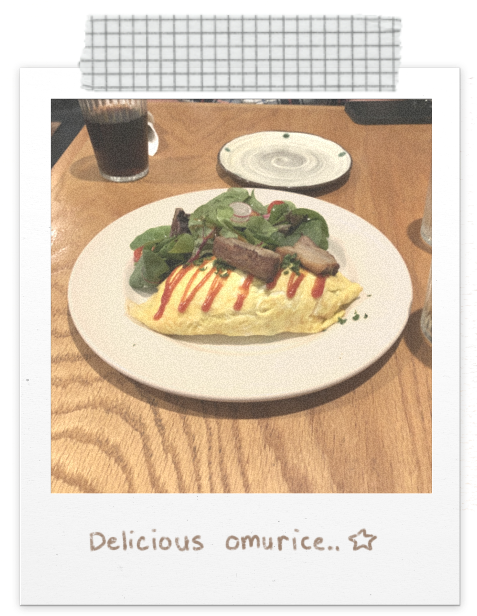 The small restaurant had such a nice welcoming feeling to it… the decor was very nice, too. The staff was very kind, and offered us iced teas and friendly conversation. And the food…… was amazing!!!!!!! We were totally blown away by how delicious the omurice was! We ended up ordering an additional unagidon, since we finished the omurice so fast. I was really touched by how pleasant of an experience it was, so I sketched a drawing of the front of the cafe and left it with my tip. The waitress saw the drawing, and excitedly showed it to the rest of the staff. They ended up showing me around the restaurant, showing me historic photos of the building and explaining the restaurant's history within their family. It was just so sweet! I ended up exchanging contacts with the staff so I could come draw on their chalkboard menu at a later date. It was just so nice… feeling like I was part of a community was something I had really missed ever since I moved away from home, so being able to feel that sense of community again was very healing to me. It made me think… "oh yeah, bringing people together with food and art, this is the kind of stuff that makes life worth living." I thought about it on the entirety of our train ride back.
On Sunday, the final day of my best friend's visit, I decided to take him to the beach. We've been very much landlocked our entire lives, so I was excited to spend a day on the coast with him. He met up with me at my apartment, and my room mate made soufflés! After finishing our delicious soufflés, we traveled to the beach. We walked around the pier at first, trying boardwalk food and peering over the edge of the railings to look at the ocean below. We had lunch at a seafood restaurant; where we ordered fried oysters. We've both had raw oysters before, and agreed they were mid. But over the summer, we began to crave them again. We visited a seafood restaurant in town to have raw oysters, and they were still mid… Luckily for us, we found fried oysters to be very delicious! It felt like the rewarding conclusion to a long, oyster related side quest.
After our meal, we made our way down to the sandy beach, where we got our feet wet in the ocean and chatted as the waves washed over our legs. I brought up the idea of making a sand castle, so we both stepped out of the water. Instead of a sand castle, we ended up making a
terrifying realistic sand man
. Beachgoers laughed as they passed by, and we laughed with them! I think we may have scared a few kids though, but maybe their parents who kept beckoning them closer to our sand guy are partially to blame too…. Eventually the waves washed over and reclaimed our creation. I like to imagine he's having adventures under the sea now. (We named him Seymour.. Seamore..?)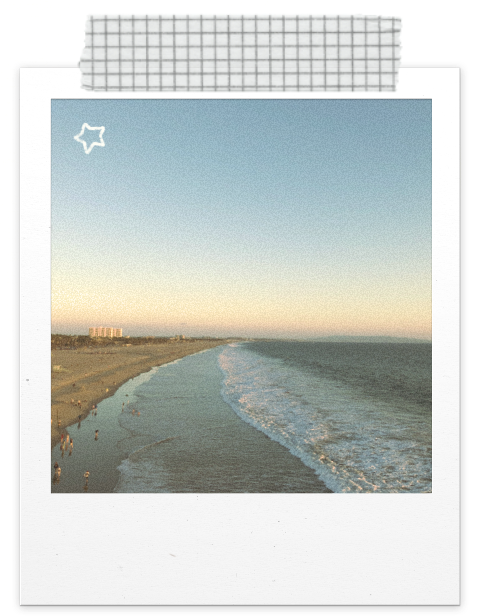 My friend and I made our way back to the boardwalk and we went on one of those swingy boat rides they usually have at carnivals. I haven't been on one since I was in middle school or so, and I remembered liking them, so I wanted to try riding one again. It was terrifying…… my best friend and I had our eyes squeezed shut the entire time as we held onto eachother and screamed. LOL After that, we decided to go on a ferris wheel to watch the sun set. I took a picture of him with the ocean and sunset in the background, and he took one of me! As night began to fall, we took a subway to a different part of the city, where we did some shopping and found a restaurant to eat dinner at. The delicious corn soup at the restaurant really helped us warm up…
We returned back to my apartment, and we knew our time together was coming to an end. We sat on my couch and played 3DS games together for a few hours, in an attempt to stall our inevitable parting of ways… he helped me make progress in Ocarina of Time and I got to play with the Yotsuba action figure that I bought him for his birthday. Eventually, we decided to exchange farewells, but not before sharing lots of hugs!
After he left my apartment, I tidied up the kitchen and reflected on our weekend together. I started to cry… not because I was sad or anything, but because I was so happy!!! After having such a fun weekend together, it was hard not to feel incredibly loved and content with the world.

He must've been feeling the same way, because we exchanged lots of sappy text messages about how much we appreciate and admire each other. I felt reinvigorated and ready to take on life again.

Monday 08.15.2022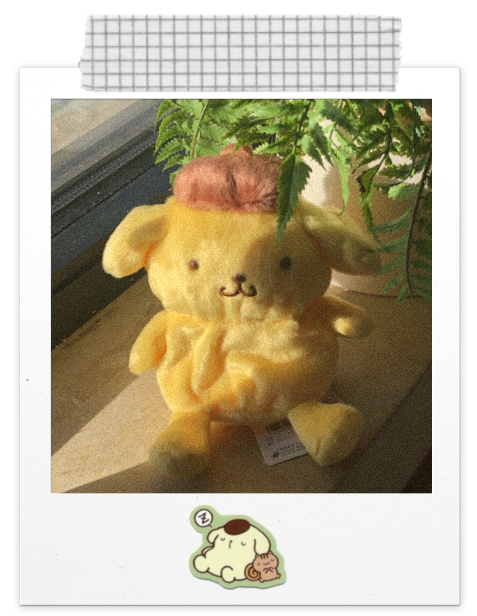 I hung out with my friends during our weekly cafe sketch. My best friend surprised me with a Pompompurin plush... isnt he super cute?! Ive always loved pompompurin, but for some reason ive never owned a plush of him... I adore this purin so much. ;__; Hes filled with beans and has an adorable button nose and eyes...
My best friend and I played some ACNL together and spent the rest of our time at the cafe doodling together. We had fun drawing Yotsuba characters from memory... Afterwards, we visited a bar and had dinner there. I ate a delicious bowl of mac and cheese...

Ive started playing FFXIV lately as well. My best friend and I have been meaning to try it out for some time, but never got around to it until now. I have little experience with MMOs like this, but ive been enjoying myself nonetheless. Im still early on, so things are mostly uneventful and I've resigned myself to mostly completing fetch quests. But its very cozy... fantasy games have that kind of effect.

Friday 08.12.2022
I spent the day cooking and adventuring with my friends! We met up in the afternoon and drove around town running a few errands. We've been planning to cook udon together for the past week... it was either that or pizza, but cooking udon would give us an excuse to visit the asian market so thats what we ended up going with! Luckily for us, it seemed the asian market had recently restocked that day... We intended to only buy frozen udon noodles and fish roe, but we ended up buying a wide assortment of drinks and snacks. I bought some coffee milk and a couple of bottles of thai tea for my mom... Perusing the drinks sections has always been my favorite part of grocery shopping T__T So much variety and colorful packaging... After visiting another grocery store to retrieve the rest of our needed ingredients, we arrived at my friends' apartment and got to cooking... We sampled some of the snacks and drinks we bought as we prepared the meal. We made a delicious cream sauce out of onions, garlic, butter, mushrooms, spinach, heavy cream, and salt and pepper. We paired the sauce with the udon noodles and a mentaiko sauce made from fish roe and kewpie mayo...

I mightve let the sauce sit for too long, because it was creamier and thicker than anticipated... It was a very hearty and enjoyable meal nonetheless... cooking with friends is so fun and rewarding. I'll definitely cook this cream udon again in the future..! So easy and yummy.... My friend's mom stopped by and had a bowl of the udon. My own mother wanted to try the udon too, so we ended up driving back into town to deliver the meal. I got some driving practice in, too... I was worried my mom wouldnt like the udon because she isnt the biggest fan of dairy or cream... but she told me she ate the entire bowl and rated it a 4.5/5 stars! I'll have to cook for more people from now on...

Wednesday 08.10.2022
I feel like my brain is stuffed with cotton..... i feel so very numb and understimulated... I woke up in the afternoon again, like I always do. It used to bother me a lot but I've taken to accepting my nearly nocturnal sleep schedule. No amount of melatonin or scheduling or alarms has ever remedied my impulsive need to stay up until 5 AM.... its more of a self-control problem than it is a sleep problem... Well, today I woke up feeling guilty about it. I tried to start my day off well, by eating a proper meal, by getting some fresh air outside... Its a bit hard to invigorate yourself for the day when the sun begins to set immediately afterwards. I tried to indulge in an activity that was supposed to be relaxing and fun, but I somehow ended up stressing myself out over it and became overwhelmed... I took a walk to empty my mind, walking around with some music can help me feel calm... but other times it leaves me alone with my thoughts, which was what ended up happening. I think I'm a pretty optimistic person-- As lazy as I am, Ive put a good amount of effort into improving myself and my life, but even then, sorta crummy days are an inevitably. Days like these are to be expected during summer breaks... I have an extended amount of free time and some days I'm too lazy to make any good use of it. And as a result I'm left feeling a bit guilty...

I desperately need to get off of social media. Its so easy to get locked into periods of endless scrolling... its absolutely mind numbing. I can't find any use for social media anymore... The entertainment I derive from it is fickle, and it only contributes to my lack of resolve/productivity. Other than messaging apps to keep in contact with friends, I need to make a better effort to get off of things like Twitter...

I'll end off this entry with some positive things... My friend knitted me a pair of adorable leg warmers. They go up to my knees and have little ruffly frilly detailings at the bottom... I absolutely adore them and Ive been making a greater effort to wear skirts on every outting so I can pair them with my leg warmers. They look super cute with my brown mary janes... I've also started watching Cardcaptor Sakura. Ive watched some of the early episodes before, but never stuck to completing the series. So i'll try to do that... I've been in the mood to watch something cute and vaguely nostalgic, so Cardcaptor Sakura feels very fitting. I debated watching Chobits because I was kind of in love with Chi as a kid, but I also remember strongly disliking her male love interest. (Maybe i was jealous... or maybe I was justified... or both?) At the time of writing, I've taken a couple melatonin gummies and hopefully they'll help me sleep earlier than I usually would... I'd like to fix my sleeping schedule, even if its only for the remainder of my break... Tomorrow I'll try to have a nicer day..! Writing this entry has already made me feel better... I'm glad I have Cloverbell. Its like a warm, welcoming home...


Friday 08.06.2022
Today my friends and i visited a local salt mine together.


I remember visiting the salt mine once during an elementary school field trip, but I havent been back since! It was a very hot and humid summer day, but the temperature was nice and mild once we boarded an elevator and travelled 600 feet below the ground... Our visit was a lot of fun. There was a little train down there that you could board, and it would tour you around the mine... I learned a lot about mines and rock formations. Did you know that a lot of words used to describe the human anatomy are also used to describe mines?

Mines have a head, a back, a stomach, and ribs... I think mines and caves are really cool... and scary... and cool because its scary... Walking around the mine and seeing rows upon rows of identical stone pillars, stretching infinitely into the darkness... I had a lot of fun imagining ominous figures standing around in the shadows.

After we finished exploring to our hearts content, we stopped by a nearby dead mall. The mall is completely vacant save for a few stores, and I wanted to visit the used games store to see if I could find a cheap copy of ACNL. (I want to start another town...) The store didnt have what I was looking for, unfortunately, but we managed to stumble across an antiques store. The store was selling a bunch of those old porcelein figurines that grandmas tend to collect... Like precious moments dolls and stuff. Maybe I'm becoming a grandma, but I thought they were all so adorable.... there were little bears and farm animals in little dresses holding little props...... I was surprised at how detailed each one was.

I ended up falling in love with this cow figurine. Isnt she adorable?!

Shes a cute little cow lady with an adorable gingham dress and a little bouquet of flowers! She has a little ruffly bonnet, and little yellow horns... and a tiny daisy tucked behind her ear. Look at the detailed lace... its shaped like small flowers... she even has a cute tail. On the bottom of the figurine, it says "Milk Maid". ....Shes a milk maid.... because shes a cow...!!!!! Obviously i ended up leaving with her. Top ten lune purchases for sure... I dont know what to name her yet, but it would be nice to fit a cow pun in there somehow. Let me know if you have any ideas, cow pun or not...


After eating out for dinner, I stopped by my best friend's apartment and we played through the forest dungeon in Windwaker. I read a lot of Yotsuba once i got home...

Saturday 07.29.2022
For whatever reason, in the past year or so I've become increasingly more self conscious about the quality of my writing and speaking. To be fair, this has always been a problem for me. English is not my first language, and I spent a lot of my childhood unable to communicate with classmates and peers. But at the same time…. It's even harder for me to communicate in Vietnamese nowadays. Despite my initial lack of proficiency in English, growing up in America made it easy for me to become a native English speaker, while my Vietnamese suffered because I had few opportunities to practice it.
I just have so many thoughts and feelings that I desperately want to convey with those around me, but I do not have the vocabulary, articulation, or fluency necessary to do so. (Regardless of what language I'm communicating in…) Talking to my mom about my feelings is the hardest thing in the world… Not because its difficult to be vulnerable, but because I cannot communicate to her with my limited Vietnamese vocabulary. I was just never taught any words that could be used to describe anything internal or nuanced. Even though I was able to work a summer job as a Vietnamese translator, every time I try to open up in Vietnamese, I just get the feeling that I'm speaking complete nonsense. It's the same way in English, though I am much more articulate in English…. I just don't feel like I'm utilizing my vocabulary to its fullest extent. I feel like I could be saying much more, but whenever I speak or write a sentence into existence it only describes a fraction of what I intended.
The way I communicate feels stiff… even writing this entry is difficult. T__T This insecurity has even made it difficult for me to reread things like text messages without cringing… I just get the impression that everything I say is broken and incoherent. Of course, I don't think there's anything inherently wrong about lacking in speech and writing… it's more of a frustration with myself. I just hope people around me are patient and understanding with me and my word salads, because I really do struggle and I'm trying my best to improve… it's just a really frustrating feeling, wanting to communicate your thoughts but being hindered by your lack of articulation and fluency.
(Due to the subject of this diary entry I tried my hardest to write this as clearly as I could)

Saturday 07.23.2022
New diary layout!!!

I've been putting off writing in my previous diary so i could finish this layout... im happy with it. T__T
Today was quite hot, but I decided to brave the heat and walk to my neighborhood grocery store to buy something to snack on... yesterday I discovered that my nearby grocery store sells boxes of fresh cocktail shrimp for quite cheap, so I was determined to buy myself some shrimp. (and i did) I poured myself a glass of the expensive milk I bought yesterday as soon as I got home from my walk. It was very sweet and refreshing... I can never go back to cheap low fat milk...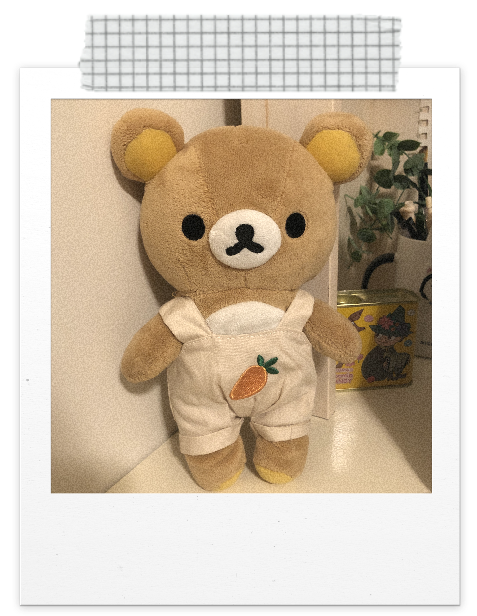 I decided to spend my afternoon cleaning and tidying up my room. I organized my art supplies, plushies, clothes... As I was cleaning through my room, I found an unopened package containing a small pair of overalls that I had purchased for my Rilakkuma doll a long while ago. I mustve forgotten to open it... I let my Rilakkuma doll try it on immediately. Isnt he super cute!?
I'll probably keep him in these overalls for the summer and change him into his sweater as the weather gets colder... I then spent some time tinkering with my site and working on my new diary layout. I'm pretty happy with it, though I may make adjustments in the coming days! After dinner, I read a couple chapters of Yotsuba. My best friend has been lending volumes to me, and I've been reading it every night... I deeply adore it!
Im about 7 volumes in now. I may play some happy home designer before heading to bed...


Friday 07.22.2022
Today I spent the day relaxing and having fun with my dear friends. I woke up a bit earlier than I usually do to meet up with my best friend. We went to my neighborhood grocery store and met up with our other friend…. We had been planning to cook Alfredo and steak all week, and decided to grocery shop for the ingredients together. Grocery shopping with my friends was a lot of fun… we ended up buying a few extra things that caught our eye, like some fresh cocktail shrimp and a glass bottle of milk from a local farm…. The milk we bought was more on the expensive side, but I've never had milk that wasn't super cheap lactose-free milk so my friends insisted I had to try it… When we met up at my best friend's apartment, I poured myself a glass of the milk. It was really tasty…. I might be a milk fan now…. I drank several more glasses throughout the day. My friends and I all cooked together and it was a lot of fun. My best friend is a really skilled cook… along with my best friend's room mate, we all had a lovely home cooked dinner together. The meal we prepared was really delicious…. After our meal, we dawdled around a bit before setting out on a walk at the forest near my best friend's apartment. The forest trail is very dense and pretty, especially as the sun was setting and fireflies began to appear and twinkle about…. We even crossed a creek and explored a bit of the other side of the forest. After our walk, we spent the rest of the night playing Windwaker together. It was my first time playing it, and I thoroughly enjoyed it. I'll have to play more of it! After I got home, I read a few chapters of yotsuba and explored some neocities sites before heading to sleep..



Welcome to my diary!

Hiya, and welcome to my diary, a cozy text home for my musings to live in! Here i'll document my daily life and tangential ramblings.
Thanks for reading..! ☆